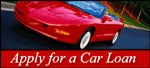 Searching for just the right vehicle can be extremely time consuming.  Don't waste additional time searching for a place to finance your loan.  At the St. Joseph Valley Community Federal Credit Union the rates are competitive, the loan application process is quick and convenient, and the service you'll receive is friendly and efficient.
We make borrowing easy.  Loan pre-approval, payroll deduction and competitive interest rates make your Credit Union the place to finance all your vehicle needs.  Best of all processing time is fast;  you can usually have a loan decision and your money all in the same day or within 24 hours.
New Auto Loan Feature:
Terms up to 84 months on purchases over $25,000.  Rates Page.
Used Auto Loan Feature:
Terms up to 60 months.  Full financing purchase price (not to exceed NADA retail value.) 

Rates Page.
If you are ready to replace that old vehicle.  Apply for a loan and get pre-approved and then go shopping.  Make your best deal with the salesman.  If the purchase is for a vehicle from a dealership, a copy of sales agreement is required.  If the purchase is from a private party a copy of the title or registration is required as evidence of what is being purchased.  You will also need a copy of your sellers drivers license for us to verify eligibility of sales authority. Proof of full coverage insurance on the vehicle will be required at loan closing. New dealer direct purchase requires 10% down payment.  Amount available to loan on used items will be determined by the loan value on http://www.nadaguides.com/.